JULY 10TH – 12TH, 2020
PRESENTED BY MERMAID AND MOM & PIXIE TRIBE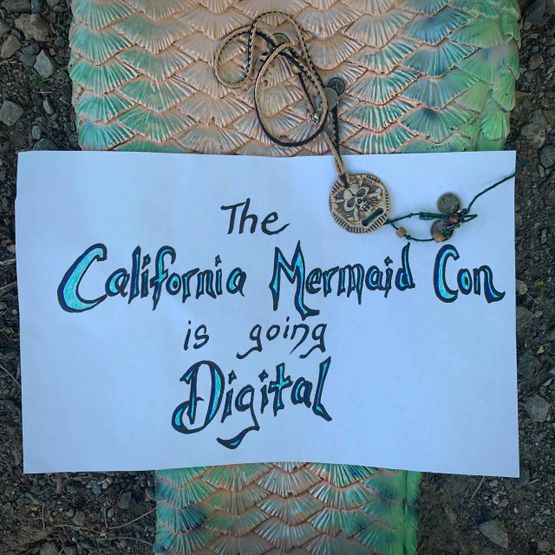 An online event for Merfolk around the world!
Great news, fish friends! The California Mermaid Convention is going digital for 2020!
In light of the current global situation, we want to make sure our valued guests, performers, photographers, vendors, volunteers, and staff are all safe. With so much uncertainty around travel, gatherings, and large events and a chance our venue may not be open to the public by July, we started to think outside the 'bubble' to make sure we brought you all the fun of the convention, in the safest way possible.
This exciting new online format will open the door to so many mermaids around the globe who may not have been able to make it to the physical convention! We are excited to offer a ton of fun activities and adventures you can have, right at home.
Meetings, Workshops and Lectures
Join some of the biggest fish in the industry to ask questions, hear behind the scenes secrets and take online courses to expand your mermaid knowledge and portfolio. We will offer both free and paid online meetings covering a range of topics and subjects!
Digital Bubble Ball
Dress up at home in your mermaid, pirate, ocean or nautical best and join our online Bubble Ball. Dance breaks, mermaid sing-a-longs, a digital costume contest, and more! We will also host a raffle during the online event, with many offerings from our vendors. You could win some beautiful mermaid treasures, while still at home.
Vendor Specials
We are proud to offer exclusive merchandise for our 2020 digital convention. We will also feature an online vendor hall, with day-of specials, limited edition products and wares, and a free Vendor Showcase where customers can see some creations up close!
Join The Fun!
To purchase tickets to our digital events please click here.
For a three-day, Weekend Pass click here.
For questions or more information, please email us at hello@californiamermaidcon.com Thank you.
Please click here to return to the Comic Con Addicts website and visit our Facebook group.